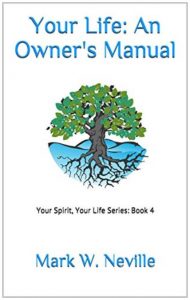 Wouldn't it be great to have an owner's manual for your life? That's what this book is. In this owner's manual, you learn about your life: what it is, its purpose, how to take good care of it, make the most of it, and fulfill it. You also learn how to troubleshoot and who to contact for support when you need help.
This manual serves as an excellent introduction to Life Therapy. Life Therapy is a holistic alternative to traditional medication therapy and psychotherapy or behavioral health counseling that also complements both.
I formed it out of my formal training and thirty-plus years of counseling individual, couples, and families through life's most difficult challenges. Ten of those years were with nationally awarded hospice and palliative care organization where I provided both patient care and clinical supervision of other clinicians of all disciplines.
The little owner's manual is steeped in the wisdom I learned from my professors, supervisors, mentors, and most of all from my patients and clients.
Like any other owner's manual, you might read it cover to cover or just stick somewhere and read sections when  you need to. Either way, it good to have close by.